Lust List
I decided to create a post of items I have been lusting over. Some are a little far fetched while others are attainable. Nonetheless, they are all amazing and worth the money, in my opinion. 
BDG Neon Grazer Mid-Rise Jean @ Urban Outfitters $68.00
I have been obsessing over the neon trend and I am still in love with skinnies even though they have been popular for so long. I love the idea of bright colors especially on my olive skin tone because I become very tan in the summer time. Even though the color is kind of out there, I feel they are a staple piece for the summer. You can dress them up or down and they're perfect for night time when it gets a little cooler out.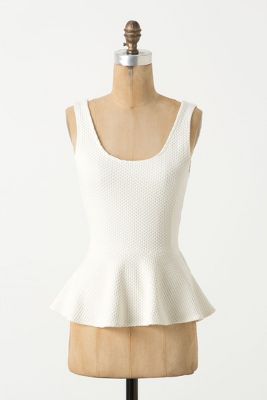 Peplum Ponte Tank @ Anthropologie $78.00
I can not explain how badly I want this top. It is simple but the silhouette and texture are incredible and I think it would be an amazing piece to supplement any wardrobe. I have been eyeing the peplum trend for awhile and I think I am finally ready to dive in. 
Free People Almost Famous Floral Lace Dress @ Karmaloop or Bloomingdales
I think this is the perfect dress for summer. I am such a sucker for lace and this is a simple yet boho piece that just screams Free People. I love the style of clothes Free People creates. They are both fun and feminine.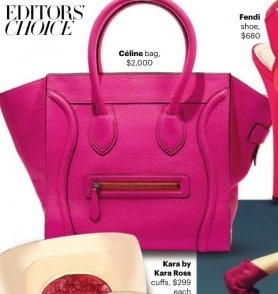 Neon Celine Bag
As I mentioned earlier, I am obsessed with neons and bright colors. Mix neon and a perfectly structured purse, and you get the Celine Hot Pink Mini Luggage Bag. I want to get my hands on this so bad, but the price tag is pretty hefty. I think it might just be worth saving for.
Any items you're currently craving?
xx T
Birchbox
Last month, I decided to order my first Birchbox. For those of you who don't know, Birchbox is a subscription beauty sample service. Each month you receive a box full of sample goodies for only $10. I've heard about it for a long time but because of it's growing popularity, I was put on a wait list. When I was checking my e-mail last month, I was thrilled to see an e-mail from Birchbox stating they had an opening for me. I immediately typed in my credit card information and now I have been waiting…as patiently as possible.
(Image Source: Birchbox)
I'll be moving home from college tomorrow and I unfortunately made the mistake of having it sent to my school address. I spoke to the head of mail services at my university and they told me they will forward it to my home address. (Let's hope that happens) I'm especially excited because Birchbox partnered with Gossip Girl this month so the sample goodies will all be Gossip Girl/New York City inspired. Being a native New Yorker and Gossip Girl obsessor, this clearly pleases me.
As soon as I receive my shipment, I will be sure to write a post featuring descriptions and photos of all of my goodies. Is anyone else subscribed to Birchbox? Are you pleased with your monthly shipments?
xx T